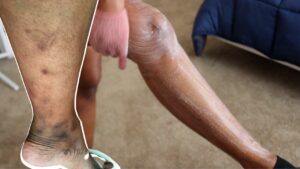 In this blog post, you will learn how to remove scars on your legs fast.
If you have scars or dark spots on your legs or your body and feel like you can't wear certain clothes, I'm here to let you know that it gets better. This is something I've dealt with my entire life, and today I'm going to be sharing with you how I remove scars or dark spots on my legs fast – in just three steps.
I've divided these three steps into three levels: beginner, intermediate, and advanced.
The beginner level is for people who have minor scars or spots. Or whose scars are not old. Intermediate is for those who have many dark spots, whose spots or scars are not too new or too old. If you're consistent, intermediate will get the job done in record time. Finally,  if you have the means and want to get rid of your scars as soon as possible,  the advanced level is for you.
Level one – Beginner
For this level, all you need are an exfoliating body lotion and kojic acid. There are many exfoliating body lotions on the market; my top four are Amlactin, Alpha skincare, Glytone, and Ameliorate. There are so many options on the market. They contain the same main ingredients: AHAs or BHAs. As for kojic acid soap, when you go to shower, apply your soap on the area and leave it on for about 30 to 60 seconds or even longer but nothing over four minutes. Then wash it off. When you come out of the shower, you grab your exfoliating lotion and apply it to the affected area. Don't wait until your skin is dry, and remember, consistency is key.
Level two – Intermediate
The second level is where a lot of my audience are, myself included. Here you would need tretinoin or retinoid or an exfoliant and a skin lightener, aka tyrosinase inhibitor.
Level three – Advanced
If you have the means and you want to see results come about faster. If you want someone else to handle and manage this condition for you, you are at the right level. Here you would need chemical peels or laser treatment.
Watch the video below for a detailed guide on how to remove scars on legs fast.
F E A T U R E D
Exfoliating lotions
▶ Amlactin https://amzn.to/2ZWR4RC
▶ Alpha Skincare https://fxo.co/CMwe
▶ Glytone https://amzn.to/2MyoRgM
▶ Ameliorate https://fxo.co/CMwN
Kojic Acid Soap
Tretinoin
▶ Skincareex http://bit.ly/2VuCjng
▶ Okdermo https://bit.ly/34wMXOT
▶ Reliablerxpharmacy http://bit.ly/2zZd6Fo
Tyrosinase Inhibitors (Spot/Skin Lighteners)
Hydroquinone
►Okdermo https://bit.ly/3gNyh2F
►Skincareex http://bit.ly/3dLGv8n
►Reliablerxpharmacy http://bit.ly/2r5aLoU
Other Tyrosinase Inhibitors (Spot/Skin Lighteners)
▶Cysteamine (cyspera) https://lddy.no/yutj
▶ Azelaic acid https://bit.ly/3kVhJba
▶ Arbutin https://amzn.to/3ySuqd5
▶ Tranexamic acid https://fxo.co/CN9N
Tranexamic acid (Paula's Choice) https://paulachoiceusca.l3km.net/oen13O
▶ Good molecules Discoloration Correcting Serum https://fxo.co/CMwq
Chemical Peels
▶ TCA https://bit.ly/3zBlpWq 
TCA 20% https://www.dpbolvw.net/click-100428206-13267921
▶ Glycolic acid https://www.kqzyfj.com/click-100428206-13267954
– Glycolic acid 70% https://www.dpbolvw.net/click-100428206-12783128
▶ Salicylic acid https://www.jdoqocy.com/click-100428206-13267954
▶ Lactic acid https://amzn.to/3cmOcUJ
▶ Mandelic acid https://amzn.to/3cmp40g
▶ Jessner's peel https://www.jdoqocy.com/click-100428206-13267946
* Bonus Spot lightener: Admire my skin https://bit.ly/3r0wfS1
Sunscreens
▶ La Roche Posay Sunscreen https://bit.ly/3hqtN2w
▶ Eucerin https://amzn.to/3wJQiFH
▶ Biore UV https://amzn.to/34vWl4D
–
Suggested Post: Best Chemical Peels for Hyperpigmentation https://thepigmentedlife.com/best-chemical-peels-for-hyperpigmentation/
—